Unbound Commerce reports record same store mobile sales and traffic growth.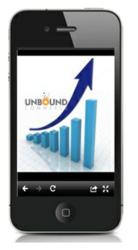 Boston, MA (PRWEB) May 14, 2013
– Unbound Commerce announced today that a broad index of 200 retailers using its Mobile Presence platform to power their mobile commerce sites saw record increases in both traffic and sales volume metrics, in year over year same store comparisons for March/April 2013.
As consumer confidence in mobile has risen, so has mobile commerce revenue. Across a range of retailers using the Unbound Commerce platform, mobile commerce revenue jumped 71% in March and April, versus the same period in 2012.