Preconfigured API Solution powers integrated tablet commerce sites and in-store kiosks.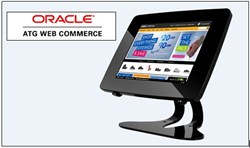 Boston, MA (PRWEB) July 25, 2013
Unbound Commerce today announced the launch of a new tablet and kiosk commerce solution for online retailers using the Oracle ATG Web Commerce platform.
By utilizing APIs pre-integrated with the popular Oracle ATG Web Commerce platform, Unbound can roll out tablet and kiosk commerce solutions for retailers that are not merely proxies of the ecommerce sites.
This deep API integration methodology leverages the same powerful ATG ecommerce software used to run the ecommerce site, but also allows the tablet and kiosk commerce experiences to stand alone, as separate elements of the omnichannel experience.