The reason online cubic zirconia retailer Ziamond built a mobile commerce site is one that's becoming quite familiar: That's where the customers are.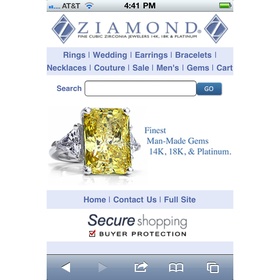 "Statistics could not be ignored: There was no denying that we had a very healthy percentage in both traffic and sales via mobile customers. According to some mobile developers we spoke to, they had not seen numbers as high as our mobile activity for our vertical," says Sarkis Kalandjian, president and CEO, who declines to reveal specific figures. "Mobile users were making purchases from their mobile devices and we wanted to make their mobile shopping experience faster, easier and better."
Mobile web browsing is becoming commonplace—half of mobile phones in use by the end of the year will be smartphones, The Nielsen Co. says—and an increasing number of retailers like Ziamond hear the mobile call.
Consumers using Ziamond's m-commerce site can shop the merchant's entire catalog of products. They can log in to their Ziamond accounts created on the e-commerce site to access their account, including billing and shipping information. Overall, navigation has been greatly simplified, an important element to any m-commerce site, Kalandjian says.
The fully transactional mobile site is the product of a partnership between two of Ziamond's vendors. E-commerce platform provider Yahoo Stores and m-commerce platform provider Unbound Commerce have integrated their systems and build m-commerce sites for Yahoo Stores merchants.
Ziamond says more mobile is on the way. It's working with Unbound Commerce on a mobile app, which will include text messaging and push notifications. A push notification is a small badge that appears on an app's icon on a smartphone that also may include a window with a message and an alert sound.