Rockport Selected As Early Partner, Speeds Mobile Conversions With 3-Click Checkout Implemented By Unbound Commerce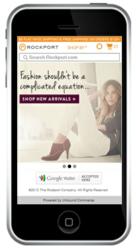 Rockport's new mobile site features the entire Rockport line of shoes, boots and accessories and allows consumers to shop and checkout, all from their smartphones. Powerful features have been integrated into the mobile commerce platform by service provider Unbound Commerce, extending and leveraging the current Rockport ecommerce infrastructure.
And now Rockport has integrated Google Wallet as a payment option on its mobile site to streamline the mobile checkout process for its customers. Selected as a launch partner, Rockport was featured in a recent announcement about the new Google Wallet solution for the mobile web.