The best part of our job at Unbound is seeing our customers having astounding success with the mobile solutions we did together.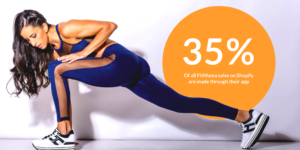 FitMama, a fitness apparel retailer, deployed a new mobile app for their customers. We designed the app to not simply sell clothing, but to help promote the healthy lifestyle that customer associate with FitMama. The merchant targeted their top customers to download the app. Within 4 months, 35% of FitMama total sales were coming through the app. No all retailers are the perfect fit for a mobile app – but for those who have, or want to cultivate, a loyal and engaged customer base, apps can be a breakthrough. According to Erika Boom, Owner, FitMama Apparel, "the combination of push notifications with one-touch checkout makes this a killer app for us. It's a great way to engage our loyal customers and makes it super easy for them to buy from us."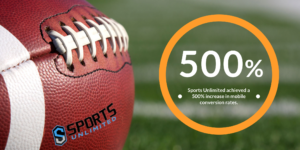 Sports Unlimited struggled with a low conversion rate on mobile. As their mobile traffic grew, the problem became acute. Working with Unbound, the retailer saw dramatic results. "Since we've deployed our mobile site, not only have visitors greatly increased, but mobile conversion rates have gone up 500% and AOV increased by 27%," according to Mike Neff, ecommerce director. Reflecting after the project, Neff commented: "It's been really easy. It's clear that Unbound has done all the leg work for us. This is one of the easiest e-commerce initiatives we've ever done."
Consult with a product expert to see what your numbers could be.