New Feature Links Mobile Commerce and Mobile Marketing
Top mobile commerce solution provider Unbound Commerce today announced the launch of a new program called Digital Pop-Up Stores (DPS). This new feature allows commerce functionality to be infused within a mobile landing page or digital ad.
What differentiates the program is that, for the first time, rich product detail options like style, color and size can be selected by consumers, without leaving the mobile page or ad or refreshing the page. The order is then dropped deep within a retailer's mobile commerce checkout flow.
This increases conversion rates and allows merchants to assign sales conversion metrics to ads or mobile landing pages, including Facebook ads. Because the page does not need to connect back to the mobile commerce engine behind it until the end of the consumer interaction, the experience is smooth and fast for mobile consumers.
"DPS is a powerful new way for our clients to both drive sales and measure ad effectiveness at the same time. Not just by clicks or by impressions, but by actual mobile sales conversions that can now take place within the ad. We feel this could be a game-changer", said Srinivasarao Nandiwada, Unbound Commerce co-founder and CTO.
When combined with the QR code generator in the dashboard all Unbound clients have access to, any ad, point of sale, or printed packaging can become the trigger for a pop-up store for mobile customers, at virtually no cost. This links mobile commerce and mobile marketing in a powerful new way, and tracks the resulting sales.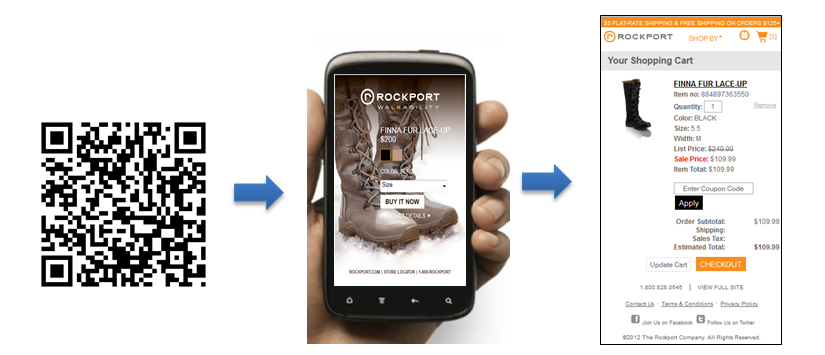 About Unbound Commerce
Unbound Commerce provides a platform solution to retailers and brands seeking to capitalize on the booming consumer adoption of mobile and social commerce. 325+ retailers currently use the Mobile Presence® platform, and the Mobile Commerce Data Book from Internet Retailer identified Unbound Commerce as the #1 mobile commerce solution provider. Retailers of all sizes choose Unbound for mobile commerce, commerce apps, tablet commerce, and Facebook stores. Unbound's unique integrated approach requires as much or as little IT involvement as desired. For additional information, please visit us at http://www.UnboundCommerce.com.