Rockport Shoes teamed up with Unbound Commerce to launch their truWALKzero campaign in New York City yesterday. Renowned performance artist Johan Lorbeer suspended himself on the side of a cube that served as a mobe point of sale for the new product line. Rockport used Unbound's Trigger Point Marketing tools for this effort and displayed a mobile QR code on the cube structure. Simply by scanning the code, Rockport linked consumers directly to a mobile commerce-enabled landing page where they can purchase a new pair of truWalkszero shoes. By tracking responses, Rockport can show demonstrated revenue lift. Watch the video here: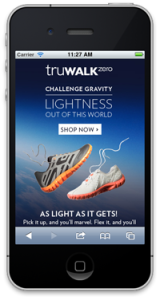 Adidas' Rockport.com recently ran a live promotion in New York that used mobile bar codes to let consumers buy shoes via their handsets. The Rockport event took place on April 5 and used a live demonstration to launch the TruWALK line of running shoes. Rockport is working with Unbound Commerce on its mobile initiatives.
"A QR code generator is built into the dashboard Unbound provides to all our clients so 'real-world trigger points' can link a physical display to a mobile landing page built specifically for a campaign like this one," said Wilson Kerr, vice president of business development and sales at Unbound Commerce, Boston.
"This TruWALKzero launch event generated a lot of buzz, but Rockport took this a step further and tied in a commerce-enabled, linked call-to-action, so success could be judged in part by incremental sales lift," he said.
Rockport is an online retailer that sells footwear for women, men and children.
Light as air
The one-day promotion involved a box display with people hanging off the edges to show how light the new shoes are. The displayed featured QR codes on the sides that took users to an optimized landing page where they could learn more about the product. Users could then tap to buy the shoes on Rockport's mobile site. Using an outdoor event to tie in with mobile commerce is a smart way for brands to showcase a new product. In Rockport's case, making the event commerce-enabled could also be effective in driving sales and educating consumers about QR codes. Additionally, the event had a strong social aspect with a Twitter hashtag and Facebook updates, most of which were most likely made by consumers at the event via their mobile devices.
Mobile rock
Although QR codes seem to be plastered over any marketing material nowadays, many consumers might not be familiar with the technology. By showing users how to scan a QR code that leads to an optimized, commerce-enabled page, it helps users get a better grasp on mobile. Rockport has been building up its mobile presence recently. The brand recently revealed that mobile traffic grew 75.8 percent year-over-year, showing how important it is for retailers to have an optimized site (see story). "QR codes lead to sales because they are displayed at the exact place and time a mobile consumer is most prequalified to be interested in buying the product or service being promoted," Mr. Kerr said. "They are literally standing in front of a display and can use their phone to access a mobile-optimized version of an online store where they can check-out in a few clicks," he said. "The purchase-intent funnel is drastically shortened, and the conversions tracked and measured."